Product Description
The BH Bikes Design & Development team have based the construction of the Fusion on the experience acquired with the technology used for the High range BH frames.
Aimed at a wide range of cyclists thanks to its geometrics.  We are looking at a slightly sloping top tube fram, an over-sized steering tube and short chain stays (405mm).
Its innovative Long Distance – Endurance design and geometrics provide greater safety, stability and comfort to the cyclist, without sacrificing the characteristic handling of BH frames.
This has resulted in a fully carbon constructed frame with a perfect balance between rigidness and comfort.
This Lightweight road frame weighs about 900g in the M size*.
Specifications
Frame:  Fusion Full Carbon
Fork:  Fusion Full Carbon 1.5″
Stem:  BH
Headset:  BH Lite 1.5″
Shift levers:  Shimano 105
Rear & Front derailleur:  Shimano 105
Crank set:  FSA Omega 50/34
Cassette:  Shimano 105 11/32
Chain:  FSA 11sp
Wheelset:  BH Lite Black
Seat clamp:  BH
Seatpost:  BH 31,6 x 350
Handlebar:  BH Lite Compact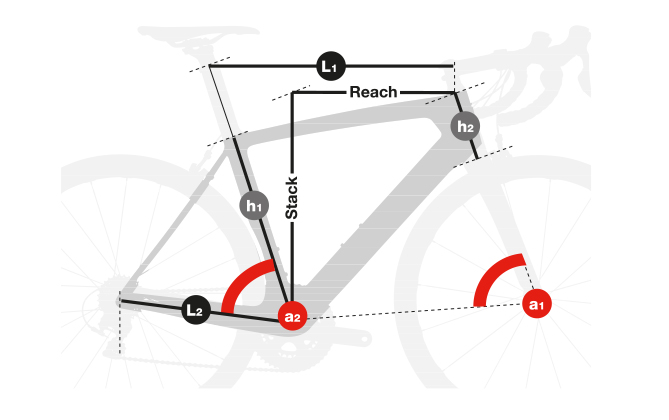 | | | | SM | | MD | | LA | | XL | |
| --- | --- | --- | --- | --- | --- | --- | --- | --- | --- | --- |
| h1 | Seat-Tube Length | | 440 | | 470 | | 490 | | 510 | |
| h2 | Head-Tube Length | | 135 | | 150 | | 175 | | 190 | |
| l1 | Top-Tube Length (horizontal) | | 518 | | 540 | | 557 | | 570 | |
| l2 | Chain-Stay Length | | 406 | | 406 | | 406 | | 406 | |
| l3 | WHEELBASE | | 72º | | 72,5º | | 73º | | 73º | |
| a2 | Seat-Tube Angle | | 74º | | 73º | | 73º | | 72,5º | |
| | Stack | | 530 | | 551 | | 576 | | 591 | |
| | Reach | | 371 | | 377 | | 381 | | 389 | |